A sales rep is a sales rep, right? Whether you call them consultants, business developers, agents, or salespeople, you expect your sales representatives to be adaptable and well-informed: a completely reliable interface between you and your clients. You expect them to sell. It's a tall order, no matter what the industry.
But sometimes their job calls for qualities that go over and above this already impressive list. When it comes to the medical field, your reps are more than sales mavens. They're lifesavers.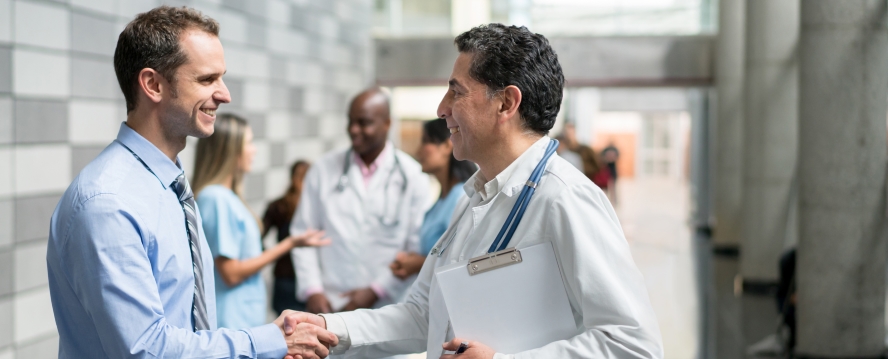 Part healthcare specialist, part lobbyist and full-time sales professional, the medical sales representative is part of a unique breed. A dedicated sales rep will not only excel at product sales, but also make presentations to healthcare professionals, arrange appointments, organize conferences for medical staff, keep up to date with the latest clinical research, constantly monitor the competition's moves, and stay on top of ever-changing national legislation and healthcare coverage. Sounds complicated? It is, and we've only skimmed the surface.
For those in charge of selling medical equipment, more difficult challenges lie ahead. The complex sales cycle, coupled with high acquisition costs, demand technical and medical know-how. The rep must understand the product well enough to supervise its installation in the operating room—with the surgeon and other medical staff present. And he or she must be prepared to adapt or change the product at all times, should a malfunction appear.
With so much on their plate, medical sales reps require a compensation plan that corresponds with their contribution. But is incentive compensation enough to motivate and retain such representatives? The answer will become clearer once we take a closer look at a medical sales rep's career path.
1. Getting in Can Prove Quite Difficult
Normally, a sales rep position requires little more than a high school diploma or an associate's degree. Nor is specific previous experience usually required. However, when it comes to medical sales, qualities many people develop in college, grad school, or specialized training programs are integral to a rep's success. Excellent communication skills, confidence, analytical skills, and constant business awareness are only the beginning. Most candidates usually have some sort of medical background, if not a life sciences or medical degree. Previous experience working in a hospital or clinic is also par for the course.
These kinds of prerequisites can discourage new candidates while also fostering more attachment between experienced reps and their current employers. Establishing a clear and promising career path, and using a clear compensation plan can slow this trend and also make the domain more attractive to future talent.
2. Training Takes Longer
Due to the fact that companies that focus on medical sales look for deeply informed candidates, future reps might be discouraged to find out that many companies have prolonged training processes in place. Some organizations require that each person on the sales force spend time with an experienced medical sales representative before gaining his or her own clients or territories, as part of a shadowing program. Others simply place new hires at desk jobs before moving them into an actual sales role.
While a candidate applying for a manager position may easily expect some amount of training, the idea of continuous professional development might not sit so well with those interested in medical sales. Clear communication of the job's benefits can be a first step to easing up this process. Sales enablement programs could also provide beneficial support and coaching, especially for guiding salespeople through their first deals. But in the final analysis, it's the companies that implement clear, strategic compensation plans, on top of sales enablement programs, that will bring talented reps in the door and gain their trust and loyalty.
3. The Work-Life Balance Can Be Problematic
Imagine that you've recently begun to work for a medical device company, and one of your first real contacts has just turned into one of your first sales. You've closed the deal. Now…off to enjoy the bonus, right? Not quite yet. Remember: in this domain, not only is the sale difficult to make, but it is also an ongoing process.
If you just sold medical equipment, here come months or years of calibration, maintenance, and possibly even training of medical staff. If we're talking about a biopart (also called a biomaterial, the product of biomedical engineering), pulling off the sale may have required you to enter the surgical area to ensure that its specifications were identical to those requested by the medical staff. And if you sold a large kit, you may have had to sterilize parts for the operation at hand while setting aside others for future use.
Such auxiliary activities may have their appeal for the impassioned salesman or the healthcare specialist, but they can certainly create a less-than-perfect work-life balance. Extra hours are standard. And a substantial amount of time may be spent traveling from one client to another, not necessarily to sell a specific product, but to answer questions about previously sold materials. Managers need to take extra care to compensate correctly for potentially hectic work schedules, especially since freelancers and self-employed medical sales reps are rare in this field.
4. The Responsibilities May Outweigh the Benefits
Because they bring specific expertise to the sales experience, good medical sales reps are difficult to find. They're also deeply appreciated by their customers. Over time, their knowledge only grows, at times approaching that of a healthcare specialist. But with increased expertise comes increased responsibility.
Though a rep is in no way answerable for a product's quality, he or she does occupy a potentially thorny intermediary position between the beneficiary and the product. And the stakes can be high. Imagine, for instance, that a medical device is found to have been contaminated. The rep would stand right in the middle of the storm of repercussions: recall costs, corrective surgeries, the PR disaster, and shattered customer trust in the manufacturer.
Sometimes, a medical sales rep's responsibilities can catch up with him or her in the future, long after the actual sale. That's because devices or bioparts might be sold one year, only to be used years later. To ease everyone's concerns, the rep should be armed with as much information about a product as possible before selling it.
5. Information Is Hard Won
Having to manage unexpected information is hard. So is having to deal with a lack of information, which is a pervasive problem for medical sales reps. They have to be in touch with the newest products and latest research developments (in an industry that changes by the hour), as well as what the competition's up to, but attaining this data is never easy. The same is true when it comes to getting a hold of accurate information about legislative changes. With very few official sources to rely on, reps often turn to private networks and forums such as Cafepharma.
The official information that a rep does manage to get is therefore highly valuable to his or her employer. So is the rep, whose reports may provide market insight, and can be used during new product development. To motivate reps to continually put energy into fulfilling their extensive role, a flexible compensation plan is a must. Such a plan might include the possibility of royalty payments, should the rep meaningfully contribute to research.
6. Legislation Is Always a Concern
As many medical sales reps discover, the lack of information affects more than sales. It affects the company on all levels. Reps must be fully aware of difficult-to-obtain current legislation. They also have to keep drug formularies and similar paperwork up to date, and pay attention to any upcoming changes in the healthcare field. A change in a medical plan, for instance, may bring special taxes and obligations that the rep will need to both understand and explain.
In light of the need for this kind of documentation, a comprehensive legislation depository should be created and regularly updated. Such a depository should contain all local and federal laws that impact the field and should be easily accessible.
7. Specialization Is in High Demand
With the steady rise of new pharmaceuticals and the constant improvements being made to medical devices, familiarity is hard won. This is why most reps usually specialize in a particular medical field. One the one hand, this makes each rep highly valuable to his or her employer and to other potential employers. On the other, it means that employers have a narrow pool to pull from.
It's difficult for a sales rep who knows everything about a certain medical device to migrate to a whole new specialty. To counter this phenomenon and maintain a top sales department, employers should consider offering courses across specializations as well as other nonfinancial rewards to their top performers.
8. There Is No Formula for Success
Since each sale involves a long-term commitment to both the client and the product, the pressure on medical sales reps is high. Add that to the fact that in many cases reps have to make their pitches in front of a professional, and you can see why self-confidence is vital.
Other vital characteristics for medical sales reps include resilience and flexibility. Making a sale in this domain does not guarantee further successes. Many times, the client has to recommend the product further, to his patients or direct customers. If the product doesn't fare well, future attempts to approach that client may fail. This is further evidence of the need for continuous job training.
If you're a sales leader in a company that focuses on healthcare, you understand the challenges of replacing highly skilled reps, and know their loyalty affects your organization's success. You can further your efforts to gain that loyalty by acknowledging the skills and nurturing the potential of each member of your sales force.
A flexible and generous incentive compensation plan, on-demand access to data, and top-notch sales enablement techniques – including coaching and training – are essential to this purpose. Unlike reps in some other fields, medical sales representatives don't see their job as a stepping stone. They're invested in the field. Make sure they reach their potential, and your own investments will pay off.